Filter Stops Car and Truck Radiators Blocking----
A major cause of engine overheating.
HOME WHY FILTER RAC INSTALL QandA BUY CONTACT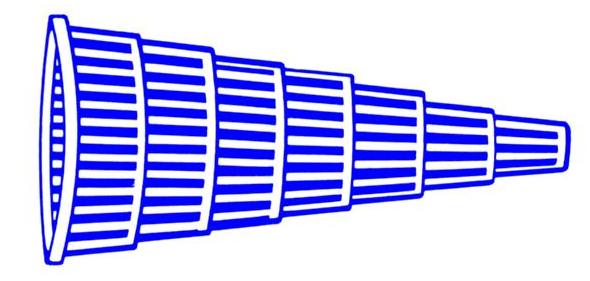 Universal Radiator Coolant Filter
That's why coolant is filtered!
Due to the high demand made on the cooling system of the internal combustion engine,
as little as 10% blockage of the narrow water passages in the car's radiator can cause
overheating---this equates to only 10 tubes in the average radiator.
The COOLFILTER Radiator filter is supplied in a universal format allowing it to be easily
adapted to suit 1" to 2" (25 to 50mm) inside diameter top radiator hoses.
In this location in the top hose, it collects ONLY the rust, silicone and gasket particles that would normally
block the fine water tubes of a radiator, causing overheating and necessitating removal for cleaning.
COOLFILTER keeps the radiator at top efficiency all year round----not just after a clean-out.
COOLFILTER has a unique, patented design allowing an increase in filtering area with larger top hoses.
COOLFILTER boasts a self-cleaning action and is easily cleaned with a minimum of coolant lost.
COOLFILTER is a reliable product and is used by automotive professionals.
COOLFILTER
Eliminates expensive radiator cleanouts.
Can be fitted to most engines in five minutes.
Suits 25 to 50 mm top hose inside diameters.
Is simply sut to size and inserted---no special tools required.
Vehicle does not have to have to be modified for fitment.
Easily cleaned when necessary or as part of an annual service.
Reduces overheating and thereby extends engine life.